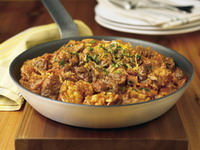 How do you like your steak cooked, 'cause the 2007 National Beef Cook-Off is looking for the country's best family chefs!
Enter today for a chance to win the $50,000 Best of Beef Grand Prize. The 2007 National Beef Cook-Off, the country's premier amateur beef-cooking contest, invites home chefs to submit their favorite original beef recipes for a chance at culinary fame.
The Cook-Off gives America's amateur cooks the opportunity to share beef recipes that have played an integral part in their family's active lifestyle. Twenty-five finalists will be invited to showcase their top-tasting beef dishes September 11-13, 2007 in Chicago, Illinois and will compete for their share of $110,000 in cash and prizes, including the coveted $50,000 Best of Beef Grand Prize.
This year, four new categories allow family chefs to showcase the freshest new uses for beef as a means to enjoying an active life. You can enter your original recipe online or you can enter by mail.
Click here to view the winning 2005 Beef Cook-Off recipes like the Smoky Beef Enchilada Skillet recipe below. Love those one dish meals!
Smoky Beef Enchilada Skillet
by Carolyn Collins, TX
Total preparation and cooking time: 25 minutes
Makes 4 to 6 servings
Ingredients:
1 package (17 ounces) refrigerated fully-cooked beef tips with gravy
12 small corn tortillas (6 to 7-inch diameter), cut into 1-inch pieces
1-1/2 cups shredded Mexican cheese blend
1 can (10 ounces) enchilada sauce
1 can (4 to 4-1/2 ounces) chopped green chilies, drained
1/2 cup chopped onion
1 chipotle pepper in adobo sauce, seeded, finely chopped
1/4 teaspoon salt
1/2 cup shredded Mexican cheese blend
2 tablespoons finely chopped fresh cilantro or parsley
Directions:
Combine beef tips with gravy, tortillas, 1-1/2 cups cheese, enchilada sauce, chilies, onion, chipotle pepper and salt in large nonstick skillet; bring to a boil. Reduce heat; cover and cook 5 to 7 minutes or until tortilla pieces are softened and flavors are blended, stirring once.
Top with remaining 1/2 cup cheese and cilantro. Serve immediately.
Cook's Tip: Shredded Cheddar cheese may be substituted for Mexican cheese blend.