Here's another inspired vegetarian soup from the January 2007 issue of Cooking Light magazine. Since the soup is very low in fat and high in fiber, it's only 4 Weight Watchers Points per serving! Try it with a whole wheat pita and a carton of plain yogurt.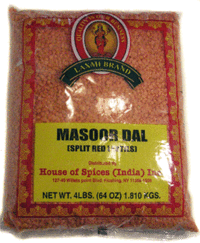 I found red dal at a local Asian market in their extensive Indian food section. The lentils are more orange than red, and were very reasonably priced. I'll be using the leftover dried beans in other lentil recipes instead of or combined with the normal brown lentils from the market.
Chunky Red Dal Soup
From Cooking Light Magazine, January 2007
Yield: 5 servings (serving size: 1 cup)
This soup gets a flavor kick from harissa, a hot condiment made by preserving chiles in salt. You can find it in Middle Eastern markets or substitute chile paste instead.
Ingredients:
1 1/2 teaspoons olive oil
1/2 cup chopped onion
1 teaspoon minced garlic
1 1/2 teaspoons minced peeled fresh ginger
3/4 teaspoon Spanish smoked paprika
1/2 teaspoon salt
1/4 teaspoon ground cumin
1/8 teaspoon freshly ground black pepper
3 cups water
1 cup dried red lentils, rinsed and drained
1 cup canned chickpeas (garbanzo beans), rinsed and drained
1 (14.5-ounce) can diced tomatoes, undrained
1 tablespoon fresh lemon juice
1 teaspoon harissa
Chopped fresh cilantro (optional)
Directions:
Heat oil in a large saucepan over medium heat. Add onion and garlic; cook 6 minutes or until tender, stirring frequently. Stir in ginger, paprika, salt, cumin, and pepper; cook 1 minute. Add 3 cups water, lentils, chickpeas, and tomatoes; bring to a boil.
Cover, reduce heat, and simmer for 30 minutes or until the lentils are tender, stirring occasionally. Stir in lemon juice and harissa. Garnish with chopped fresh cilantro, if desired.
Nutritional information
CALORIES 224 (8% from fat); FAT 2g (sat 0.3g,mono 1.1g,poly 0.4g); PROTEIN 12.9g; CHOLESTEROL 0.0mg; CALCIUM 54mg; SODIUM 496mg; FIBER 5.8g; IRON 2.1mg; CARBOHYDRATE 38.9g