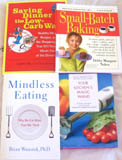 The work of gathering prizes is over for A Menu for Hope III. It's time to buy tickets and bid on a whole bunch of really terrific stuff.
I'm part of Kalyn's Kitchen's region of donors and have donated two sets of cookbooks. The first one is donated by This Mama Cooks! (Prize Code UC03)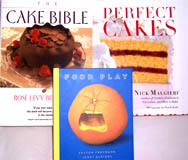 A Readable Feast (Prize Code UC02) has donated:
(All of the books I have donated are in new or like new shape and will be mailed out to the winner via media mail.)
Not only are there cookbooks and yummy treats, but a pass to BlogHer and an iPod Nano in our region. You can see the entire list of A Menu for Hope III prizes at Chez Pim.
Here's how you bid:
Go to the donation page at First Giving.
Make a donation, each $10 will give you one raffle ticket toward a prize of your choice. Please specify which prize or prizes you'd like in the 'Personal Message' section in the donation form when confirming your donation. Do tell us how many tickets per prize, and please use the prize code (for example, a donation of $50 can be 2 tickets for UW01 and 3 for UW02).
If your company matches your charity donation, please remember to check the box and fill in the information so we could claim the corporate match.
Please also check the box to allow us to see your email address so that we could contact you in case you win. Your email address will not be shared with anyone.
Check back on Chez Pim on January 15 when we announce the result of the raffle.
All proceeds will benefit the United Nations World Food Program.