For those lovers of everything vintage, Jam Handy! is your type of cooking blog. Written by Kirkkitsch, a 30-something blogger out of Arlington, Texas, Jam Handy! is a gold mine of old recipes, magazine ads, and vintage cookbooks. Kirk faithfully scans the ads and cookbooks and documents the year. I really appreciate the effort and his sense of kitschy style. (See his CafePress store, Seul Boy for the best in vintage graphics on cards, mugs, etc. Can you say Christmas presents?)
Snooping around, I found a rather familiar recipe for Pumpkin Cream Pie: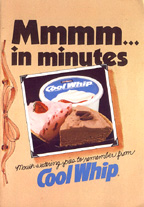 Pumpkin Cream Pie (1981)
Ingredients:
1 package (6-serving size) Jell-O instant pudding and pie filling, vanilla flavor
1 can (16 oz.) pumpkin
1 cup milk
1 teaspoon pumpkin pie spice*
1 container (4 oz.) Cool Whip non-dairy whipped topping, thawed
1 prepared 9-inch graham cracker crumb crust
*Or use 1/4 teaspoon each nutmeg and ginger and 1/2 teaspoon cinnamon.
Directions:
Combine pie filling mix, pumpkin, milk and spices in bowl. Mix slowly with electric mixer or rotary beater just until blended, about 1 minute.
Fold in whipped topping.
Spoon into crust. Freeze until firm, at least 4 hours or overnight; let stand at room temperature about 30 minutes before cutting. Garnish with additional whipped topping, if desired.
You see it's just like this recipe for Weight Watcher's Pumpkin Mouse that my Weight Watchers leader gave me a couple of years ago. It's a lifesaver when everyone else is stuffing their faces on pie and you're feeling sorry for yourself. It satisfies your sweet tooth and your need for something creamy, too. And best of all, it's only 1.5 points for one cup of mousse.
Pumpkin Mousse
Ingredients:
2 small packages of instant sugar-free vanilla pudding
2 cups of no-fat (skim) milk
1/2 teaspoon pumpkin spice
15 ounce can of pumpkin
8 ounces of fat-free Cool Whip
Directions:
Make pudding first.
Fold in ingredients.
Chill and serve!