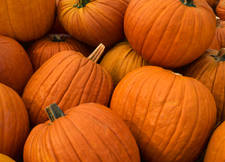 I think this is the start of an season full of pumpkin and squash cooking, since all the October foodie magazines are full of pumpkin and squash recipes. As faithful reader, Michelle D. writes:
We have a Friday tradition of making a gourmet dinner every Friday night. I guess it makes us feel grown-up! I made this for dinner tonight for Sean and Agnes. They both loved it. I thought your family might like it, too. I love cooking with pumpkins. To me it means Autumn is here!

The recipe looks difficult but it only took about 30-40 mins to make. I did make some changes to it. I roasted the pumpkins yesterday. When I took them out of the oven I left them sit in the pan, covered, for maybe 2 hours. When I remembered them (I have a 1 year old. You lose track of time.) they were cooked perfectly. I cut off the tops, scooped out the seeds, and then scraped out the "meat". Mmmm, squash.

I didn't save the pumpkins to serve with but it would look really cute if you did. When I made the risotto I used 3 cups of chicken stock and 1 cup of water mixed with a couple shakes of chicken bullion. I think I only used about 3 1/2 cups of liquid. Our scallops were HUGE so I cooked them for 6 minutes on both sides and they were done perfectly. Anyhoo, here is the recipe:
Pan-Seared Scallops Pumpkin Risotto
Active time: 1 hr
Start to finish: 1 hr 4 miniature
Makes 4 servings
Ingredients for risotto:
1 1/4 cups diced (1/4 inch) peeled seeded fresh pumpkin (preferably from sugar or cheese pumpkins, like Jack-Be-Littles at 3 1/2 to 4 inches in diameter)
2 cups chicken stock
2 cups water
1 small onion, finely chopped
1 tablespoon olive oil
3/4 cup Arborio rice
1 oz grated Parmigiano-Reggiano (1/3 cup)
1 tablespoon unsalted butter
Ingredients for scallops:
20 large sea scallops (1 1/2 lb), tough muscle removed from side of each if necessary
1 1/2 tablespoons olive oil
3 tablespoons unsalted butter
2 tablespoons thinly sliced fresh sage
2 tablespoons white truffle oil
Directions to roast miniature pumpkins:
Preheat oven to 350°F. Roast whole miniature pumpkins in a small roasting pan with 1/2 inch water, tightly covered with foil, until very tender, 45 to 50 minutes.
Cool slightly. Cut out tops and reserve, then scoop out seeds.
Discard water from roasting pan, then return pumpkin shells to pan and keep warm, covered with foil.
Directions for making risotto while pumpkins roast:
Cook diced pumpkin in a medium saucepan two-thirds full of simmering water until tender, 2 to 3 minutes. Drain in a colander.
Bring stock and 2 cups water to a simmer in a small saucepan and keep at a bare simmer.
Cook onion in oil in a 2- to 2 1/2-quart heavy saucepan over moderate heat, stirring occasionally, until softened, about 3 minutes.
Add rice and cook, stirring, 1 minute.
Add 1 cup simmering stock and cook at a strong simmer, stirring constantly, until stock is absorbed.
Continue simmering, adding stock 1/2 cup at a time, stirring constantly and letting each addition be absorbed before adding the next, until rice is tender and creamy-looking but still al dente, about 18 minutes total. (There may be broth left over.)
Remove from heat and stir in diced pumpkin, cheese, and butter, stirring until butter is melted.
Season with salt and pepper and cover to keep warm.
Directions for preparing scallops:
Pat scallops dry and season with salt.
Heat oil in a 12-inch nonstick skillet over moderately high heat until hot but not smoking, then sauté scallops, turning once, until golden brown, 4 to 6 minutes.
If scallops are not cooked through, reduce heat to moderate and cook about 2 minutes more.
Transfer to a bowl with a slotted spoon and discard any oil remaining in skillet (do not clean skillet).
Cook butter in same skillet over moderate heat until it foams and turns light brown. Add sage and cook, stirring, 1 minute.
Remove from heat and stir in truffle oil. Season with salt.
To serve:
Put each pumpkin shell on a plate, fill with risotto, and cover with reserved tops.
Arrange scallops around pumpkin and drizzle with sage butter.