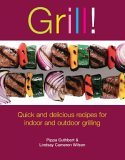 After a coworker's cookout, I'm a big fan of lamb on the grill. This recipe is from Grill!: Quick And Delicious Recipes for Indoor And Outdoor Grilling
by Pippa Cuthbert & Lindsay Cameron Wilson. Grill! is a delightful book and sure to become a favorite go to guide on grilling.
Caramelized Lamb Chops
Serves 4
Grilling meltingly tender, marinated lamb chops is one of life's simple pleasures.
Ingredients:
 1 cup (20g) cilantro, roughly chopped
6 Tbsp brown sugar
4 Tbsp dark soy sauce
4 Tbsp mirin, Chinese rice wine or sherry
4 cloves garlic, finely chopped
16 single-rib lamb chops
Directions:
Combine the cilantro, brown sugar, soy sauce, mirin and garlic in a shallow baking dish. Add the chops, turning well to coat in the marinade.
Cover and refrigerate overnight or for up to 24 hours.
Preheat the grill or grill pan to very hot. Brush with oil.
Grill the chops to taste (4-6 minutes on each side for medium) until the edges are browned and caramelized.
Transfer the chops to a platter and allow to rest for 2-3 minutes before serving with grilled potatoes and a green salad or steamed green beans.
Other grilling posts from This Mama Cooks!