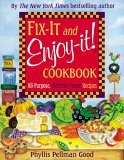 Do you have any of the "Fix-It and Forget-It" series of cookbooks by New York Times bestselling author Phyllis Pellman Good? If not, the Fix-it And Enjoy-it Cookbook: All-purpose, Welcome-home Recipes
is a good one to start with. It features easy to make, uncomplicated recipes using ingredients you probably already have at home.
This recipe stood out for me. Even though it's outdoor grilling season, not all of us have the equipment or time to stand around a hot grill. If you're an apartment dweller or just don't want to deal with the mosquitos, try making this delicious pork rib recipe in indoor comfort.
Tuscan-Style Pork Ribs with Balsamic Glaze
J.B. Miller, Indianapolis, IN
Makes 6-8 servings
Prep Time: 30 minutes
Standing (or Chilling) Time: 2-8 hours
Baking Time: 2 hours, 15 minutes
Ingredients:
2 Tbsp. olive oil
2 Tbsp. chopped fresh rosemary leaves, or 1 tsp. dried rosemary
1½ Tbsp. kosher salt
1½ Tbsp fennel seeds, or 1½ tsp. ground fennel
2 tsp. pepper
2 tsp. fresh chopped sage, or 1 tsp. dried sage
2 tsp. fresh chopped thyme, or ½ tsp. dried thyme
2 tsp. paprika
1 tsp. crushed red pepper, optional, depending on how much heat you like
1 tsp. ground coriander
½ tsp. ground allspice
6 lbs. pork ribs
3 Tbsp. balsamic vinegar
Directions:
In a small bowl, combine olive oil, rosemary, salt, fennel seeds, pepper, sage, thyme, paprika, red pepper, coriander, and allspice.
Rub spice paste all over ribs and let stand at room temperature for 2 hours, or refrigerate overnight.
Preheat oven to 325°.
Arrange ribs on a large, rimmed baking sheet or roasting pan, meaty side up.
Roast ribs uncovered for 2 hours or until tender.
Preheat broiler. Brush meaty side of ribs with balsamic vinegar and broil 6 inches from heat until browned, about 2 minutes.
Let stand for 5 minutes, then cut between ribs, or serve in slabs.
Tip: You can use this glaze on pork chops, lamb chops, and cuts of chicken.
For more recipes from Fix-it And Enjoy-it Cookbook: All-purpose, Welcome-home Recipes go to my other food blog, A Readable Feast.