I'm not one for chain restaurants, preferring local mom and pop joints. So I was reluctant to endorse anything the Olive Garden has to offer. However, their website is A-O.K. with me. Now you can watch cooking demonstrations of some of Olive Garden's more popular dishes, like their Tuscan Garlic Chicken, Shrimp and Asparagus Risotto, and Braised Short Ribs.
Olive Garden's Chief Executive Chef Paolo Lafata is fun to watch. He's kinda cute in a hobbit sort of way and I love his accent, too. The production values are very nice and it's a unique way to reach out to their customers. Check it out!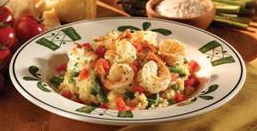 Olive Garden's Shrimp & Asparagus Risotto At-Home Recipe
Serves Six
Ingredients:
8 cups chicken broth
2 tablespoons extra virgin olive oil
1 cup white onion, diced
2 cups Carnaroli or Arborio rice
½ cup dry white wine
½ pound fresh asparagus spears, stemmed and cut into 1-inch pieces
18 large shrimp, shelled and deveined
½ cup butter
1½ cups Parmesan cheese
Salt and pepper, to taste
1 cup chopped tomatoes
Fresh parsley, chopped
Directions:
In a large pot or saucepan, bring the broth to a simmer and leave on low heat until needed.
In a separate, large nonstick pan, heat the olive oil over medium heat.
Add the onions and cook for approximately three minutes. Once the onions are translucent, add the rice, stir to coat thoroughly and cook for one minute. Next, add the white wine and stir until completely absorbed.
Slowly add ½ cup of broth to the risotto and stir until completely absorbed. Repeat this step until 4 cups of broth have been added.
Continue to stir the risotto frequently to avoid sticking.
While the risotto is cooking, add the asparagus and shrimp to the remaining broth and cook for approximately two minutes or until the shrimp are pink in color.
When finished, remove the asparagus and shrimp from the broth and add them to the pot with risotto.
Continue to add ½ cup of broth at a time until desired creaminess is reached.
Once the broth is absorbed, add butter, Parmesan cheese and salt and pepper to taste. Sprinkle with chopped tomatoes and parsley to complete.