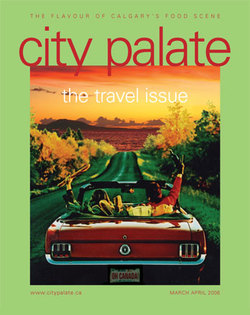 Always on the look out for new ways to cook fish, I came across this pineapple juice marinade recipe at City Palate, the magazine and website that covers Calgary's food scene.
I'll be trying it with tuna, though the recipe originally is for Wahoo. Also, I doubled the marinade recipe as it didn't seem like enough to truly soak the fish in and then use to brush on during grilling.
Pineapple-Marinated Wahoo with Coconut Rice
Courtesy Victoria Adams
Serves 6
Ingredients:
6 wahoo steaks (or mahi-mahi, tuna or other firm-fleshed fish)
salt and pepper
Marinade:
1 c. pineapple Juice 1-inch piece of ginger root, sliced
2 garlic cloves, sliced
1 scotch bonnet chile, seeds removed, roughly chopped
1 t. cornstarch
1 t. vanilla
1 T. fresh thyme
Coconut rice:
2 c. long grain rice
1 can coconut milk
1-1/2 c. water
2 t. salt
1 T. fresh thyme
Instructions:
Combine the marinade ingredients in a small pot and simmer for 5 minutes.
Cool and strain over the fish. Marinate for 2 to 4 hours.
Bring the rice, coconut milk, water, salt and thyme to a boil.
Lower heat and cook the rice for 15 minutes, or until the liquid has been absorbed.
Remove from heat and let sit for 5 minutes.
Remove the fish from the marinade, reserving the extra marinade.
Season the fish with salt and pepper.
Barbecue the fish to medium-rare brushing it with the extra marinade.
Serve the fish with the rice and grilled or steamed vegetables, or a big salad.