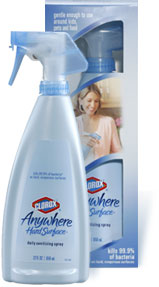 I often wonder if the cleaning and santizing sprays I'm using on the countertops will get in my food. It can't be a good thing to ingest that stuff, and there's nothing worse than food that tastes like 409. Clorox tackles this issue with their new Clorox® Anywhere Hard Surface™ spray.
It's gentle enough to use around kids and food, yet has the power to kill common household bacteria found on surfaces like plastic cutting boards, toys, diaper pails, table tops, and most anything around kids, pets, and food. Clorox® Anywhere Hard Surface™ spray kills 99.9% of bacteria including E. coli, salmonella, staph and strep.
There is no need to wipe after using Clorox® Anywhere Hard Surface™ spray. After two minutes, 99.9% of the bacteria will be eliminated, and allows you to spray and walk away.
My only issue with the spray is that it's not dual purpose. If I'm spraying countertops, I better be cleaning up spills and stains, too. But it's perfect for daycare centers, classrooms, and any places that kids are at. In fact, my daughter's future preschool teacher highly recommends it.
Check out the FAQs page and decide for yourself if Clorox® Anywhere Hard Surface™ spray is for you.