Forget the jewelry. The best thing about Valentine's Day is the ability to indulge yourself and buy quality chocolate – forget Hersey's.
In Colorado we have four companies that make specialized chocolates:
To read more about them, see today's Denver Post article, "For the love of chocolate" by staff writer (get this) Ellen Sweets.
More chocolate news: Imagine a dinner featuring chocolates and beer! Will Poole of Wen Chocolates teamed with Oskar Blues Brewery to match mendiants, dark and white chocolate coins encrusted with candied fruit and salted, roasted nuts with B3K Schwartz, Cherry Kreik Ale and Sagebrush Stout; and Savannah truffles, an Eastern European blend of hot red pepper and honey in dark chocolate with Patty's Chili Beer. To see video of the brewers dinner at the Wynkoop Brewery click here.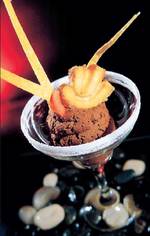 Finally a recipe: This week's Denver Post features some great chocolate recipes, including tarts, a mole sauce, and a Mexican Creme. I like this recipe because it's supposed to be reminiscent of a chocolate mousse, but it uses mascarpone instead of eggs to get that fluffy mouth feel. (We try to avoid desserts with eggs whenever possible because of my daughter's allergy.) It seems much easier to make than chocolate mousse as well.
Mexican Cream
This rich, chocolaty dessert from pastry chef Anthony Polakowski will remind some of chocolate mousse, only richer and more textured. Servings finished with little shortbread strips (or a pair of shortbread cookies) and a small strawberry, make a delightful finish to dinner. Serves 4.
Ingredients
1 cup heavy cream
1 cup mascarpone
1/2 cup sugar
1/2 teaspoon cinnamon
2 teaspoons vanilla
3 tablespoons Kahlua
1 1/2 teaspoons espresso powder
6 ounces melted dark chocolate, cooled
Strawberries or raspberries for garnish
4 shortbread cookies

Directions

Place cream and mascarpone in a mixer bowl. On low speed, beat in sugar, cinnamon, vanilla, Kahlua and espresso powder. Whip to a soft peak. Slowly beat in melted chocolate.

Chill 30 minutes. Divide into dessert dishes and garnish with fresh fruit and cookies.