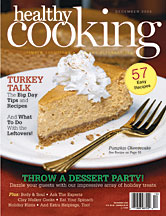 We're attending a holiday party at Big Bad Dad's coworker's home. The whole point of the party is that one of his company's vendor/partners has a lamb farm and is bringing some lamb to roast. Everyone is going to bring side dishes.
We'll be bringing Creamy Mashed Potatoes with Blue Cheese and Garlic from the December 2005 issue of Healthy Cooking magazine. I made this for Thanksgiving, along with the Port Wine Gravy with Mushrooms. Both were rather fantastic and decadent dishes for being in a health-related magazine.
(Healthy Cooking's website is still under construction, so you can't see what a great magazine it is online. However, go down to your local gourmet food store and check it out. I recommend it over Cooking Light, which in my opinion, features too many fitness articles and the recipes are full of things you'd never use twice.)
Creamy Mashed Potatoes with Blue Cheese and Garlic
makes 8 to 10 servings
Ingredients:
5 lbs. russet potatoes, peeled and cut into 1/2-inch pieces
6 gloves garlic, peeled
1 cup 1% milk
1 tsp. salt
2 Tbsp. butter
4 oz. blue cheese
pepper, to taste
sage, for garnish if desired
Directions:
Fill a large pot with water and bring to a boil.
Add potatoes and garlic and cook until fork tender.
Drain potatoes and garlic and transfer to a large mixing bowl.
Add the milk, salt, butter and cheese.
White to desired consistency.
Stir in pepper.
Garnish with sage, if desired.
Port Wine Gravy with Mushrooms
(This is to be made with turkey drippings. However, I think you could probably skip that and saute the shallots and garlic in butter or olive oil.)makes 8 servings
Ingredients:
2 large shallots, minced
1 clove garlic, minced
2 c. port wine
1 c. low-fat chicken broth
2 Tbsp. all-purpose flour
1/2 lbs. sliced mushrooms
salt and pepper, to taste
Directions:
Pour out all but 1 tablespoon of fat from the turkey roasting pan.
Place the pan on two burners over low heat.
Add shallots and garlic and cook about 4-5 minutes.
Raise heat to hgih and scrape bits off the bottom of the pan.
In a medium-sized bowl, whisk together the wine, broth and flour.
Add broth mixture and mushrooms to pan and cook on medium-high heat for 5-7 minutes or until thickened to desired texture.
Taste for salt and pepper.
Spoon the mushrooms into a gravy bowl, then strain the gravy into the bowl.
Mix gently to combine mushrooms and gravy.
© 2005 Cooking Healthy Magazine