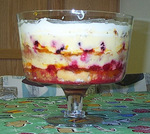 To go along with the rotisserie pork roast, the mashed potatoes with blue cheese and the port wine gravy with mushrooms (click here to see those recipes), I'll be making roast veggies, a corn bread stuffing, cranberry sauce, and an English trifle for dessert (from The All New, All Purpose Joy of Cooking
though this recipe is pretty close). While the stuffing and cranberry recipes are for Thanksgiving turkey, I don't see why these won't go with pork, too.
First, the cornbread stuffing. This recipes is adapted from the December 2005 issue of Healthy Cooking magazine - mostly the addition of sausage. I'm a firm believer in sausage in stuffing, so I just added it to the recipe.
The cranberry sauce is a cranberry-cherry compote from the November/December 2005 issue of Weight Watchers magazine. The year-end issue is always packed with fantastic, healthy, lower calorie recipes and worth keeping for future reference.
As always, having an egg allergic daughter and a mother-in-law who eats gluten free, makes any meal challenging. This year I hit the health food store and got gluten-free cornbread mix for the stuffing, gluten-free cake mix for the trifle, and egg substitute to use in both. I've had good luck with the gluten-free mixes in the past, but this will be the first time I use an egg substitute. Wish me luck!
Cranberry-Cherry Compote
Ingredients:
Juice and zest of 1 orange
3/4 c. packed brown sugar
1 (12 oz.) bag of cranberries
1/2 c. dried cherries
1/2 (3-inch) cinnamon stick
1/4 tsp. ground allspice
Directions:
Measure the orange juice and add water or other complimentary fruit juice, if necessary, to make 1 cup.
Pour into a saucepan and add the remaining ingredients, stirring to dissolve the brown sugar.
Bring to a boil over medium high heat.
Reduce the heat and simmer, uncovered, until the cranberries pop, about 10 minutes.
Let cool.
Cover and refrigerate up to 10 days.
Cornbread Stuffing with Dried Cranberries
Makes 10 to 12 servings
Ingredients:
3 (8.5 oz.) boxes corn muffin mix
1 lb. sweet Italian sausage or pork breakfast sausage
3 Tbsp. olive oil
2 c. chopped onions
2 c. chopped celery
2 c. chopped carrots
2 Tbsp. chopped fresh sage
1 c. dried cranberries
1 c. nonfat chicken broth, plus extra for moistening (Note: I found I needed a lot more than 1 cup, so make sure to have an extra can of broth on hand)
salt and pepper, to taste
Directions:
Prepare corn muffin mix according to the package directions and set aside to cool. (This can be done the day before.)
When cool, cut into bite-sized pieces and arrange on a baking sheet.
Bake at 350 degrees F for about 30 minutes, until pieces turn dry and are slightly brown. Let cool.
In a large nonstick skillet, brown sausage. Break into small bits as they cook.
Use a slotted spoon to removed cooked sausage, but keep leftover grease in pan to saute vegetables (add extra olive oil if necessary).
Put onions, celery, carrots, and sage into the skillet. Cook on medium for about 15 minutes or until vegetables are cooked, but not mushy.
Take vegetables off the stove, and add cranberry, broth, salt, pepper, sausage, and cornbread pieces in a large bowl.
Toss well to mix, adding extra broth if necessary, to moisten.
Put stuffing back in skillet and cover and cook on low heat for at least 30 minutes, checking after 10 minutes to see if you need more broth. (You may need to use two skillets if this is too much food for your pan).
Note: When I made this on Thanksgiving, I left the covered skillet on the stove at low for over an hour (I had added a great deal of broth to moisten) since I didn't have room in the oven to keep this warm. The extra cooking time really blended the flavors together and made the mixture more like a stuffing and less like a bunch of bread with vegetable and meat in it.