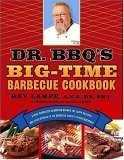 This year I'm cooking Christmas dinner on our fabulous grill. This pork roast recipe comes from Dr. BBQ's Big-Time Barbecue Cookbook: A Real Barbecue Champion Brings the Tasty Recipes and Juicy Stories of the Barbecue Circuit to Your Backyard
.
I've made it once before and it was fantastic. Nothing like taking advantage of the pork sales they have from time to time at the local grocery store, too.
My Mom's Rotisserie Pork Roast
Yield 8-12 servings
Ingredients:
1 boneless pork loin roast (5 lbs.), rolled and tied
Freshly ground black pepper
1 1/2 c. ketchup
1 1/2 c. soy sauce
Directions:
Prepare your rotisserie to cook at medium-high heat, using hickory wood for flavor, if desired.
Season the roast liberally with the black pepper. Place the roast on the rotisserie per the manufacturer's instructions.
Whisk together the ketchup and soy sauce.
While the roast is cooking, brush with the ketchup and soy sauce mixture every ten minutes. Do it gently so as not to brush off the buildup of carmelization.
Continue applying the sauce until the roast reaches an internal temperature of 145 degrees F. This should take 1 to 2 hours depending on your equipment.
Carefully remove the roast from the spit and transfer it to a platter. Let it rest 15 minutes, tented loosely with aluminum foil.
Slice and serve.