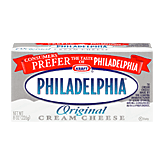 Well, if I'm going to recommend a cream cheese frosting for Michelle D.'s buttermilk chocolate cake, I'd better post some recipes. Here are a few from around the web:
Cream Cheese Frosting from the Dinner Co-Op
1 8 oz. pkg. cream cheese, softened

1/2 cup butter, melted

1 teaspoon vanilla

3 cups powdered sugar

1 tablespoon milk
Combine all ingredients. Mix until smooth.
Chocolate Cream Cheese Frosting from COOKS.COM
1 (3 oz.) pkg. cream cheese
3 tbsp. milk
2 c. sifted powdered sugar
Pinch of salt
2 oz. unsweetened chocolate
Soften cheese in milk. Add sugar (1 cup at a time), blending after each addition. Add melted chocolate and salt. Beat until smooth. Frost cake.
Whipped Cream/Cream Cheese Frosting
Adapted from Fruit-Sweet and Sugar-Free, by Janice Feuer. Copyright (c) 1993 Royal Teton Ranch.
This is the author's sensational basic frosting. Because of the strengthening quality of the cream cheese, this becomes an even more delicious, all-purpose frosting.
1/4 to 1/2 pound cream cheese, at room temperature
1/3 cup fruit sweetener
1 teaspoon vanilla extract
1 teaspoon almond or peach extract
2 cups heavy cream
Use an electric mixer on medium-high speed to whip the cream cheese until smooth. Reduce the speed and stir in the sweetener and the extracts until the mixture is smooth and well blended. With the mixer on low speed, add half of the cream. Use a rubber spatula to remove any unmixed cream cheese from the bottom of the bowl. When the mixture is smooth, gradually add the rest of the whipping cream. Increase the speed to high and whip until stiff. Use immediately for the best decorating texture.
Weight Watchers Cream Cheese Frosting
8 ounces nonfat cream cheese
3 ounces Neufchatel cheese
1 ½ cups confectioners' sugar
1 tablespoon orange zest
Beat the nonfat cream cheese, Neufchatel cheese, confectioner's sugar and orange zest with an electric mixer at high speed until blended.