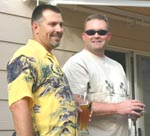 Big Bad Dad had a barbecue party for his coworkers at our house a little over a week ago. Big Dave, a Kansas City native, brought his electric smoker over and cooked pork ribs. He also grilled barbecue chicken for our guests who didn't eat pork. BBD decided to make pulled pork based on Alton Brown's recipe. (BBD is in yellow and Big Dave is wearing sunglasses).
I had "nothing" to do with this project except order the pork from the butcher at Safeway and pick it and the other ingredients up (we doubled the recipe). I also made and applied the rub to the pork. Then I babysat our gas smoker
all day Thursday, since we were having the party after work on Friday. I also took the meat off the smoker, pulled apart the pork, and removed the gristle and fat.
I just don't understand how Big Bad Dad's projects turn into work for me. But to give him credit, he did the research on making pulled pork, wrote up the grocery list, brined the pork, set up the smoker
, got it going, and most importantly, cleaned the smoker after we were done.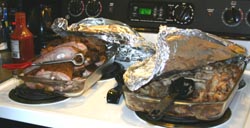 The ribs and pulled pork were kept warm in covered roasting pans in the oven.
While I prefer my barbeque less smoky and more sweet and spicy, I must say the pulled pork was exceptional. I made "pig pile Elvis style" sandwiches on good egg bread buns with cole slaw and lots of generic Safeway brand sweet barbeque sauce on the warm pork (Clausen brand pickle spear on the side). Yum!
Also, using a smoker is no big deal, even a gas one. Yes it takes all day, but as long as you're home to make sure you aren't burning your deck down, it's low maintenace cooking.
Pulled Pork Recipe
Based on Alton Brown's recipe
Brine:
3/4 cup molasses
12 ounces Kosher salt
2 quarts water
6 to 8 pound Boston butt (also called pork shoulder or pork butt)
Rub:
1 teaspoon whole cumin seed
1 teaspoon whole fennel seed
1 teaspoon whole coriander
1 tablespoon chili powder
1 tablespoon onion powder
1 tablespoon paprika
Directions:
Combine molasses, salt, and water in 6 quart container. We used a very clean big plastic bucket that my husband uses in his home brewing.
Add pork making sure it is completely submerged in brine, cover, and let sit in refrigerator for a minimum of 8 hours. Overnight is best. 
Place cumin seed, fennel seed, and coriander in food grinder or a mini-chopper and grind until fine.
Transfer to a small mixing bowl and stir in chili powder, onion powder, and paprika.
Remove pork from brine and pat dry.
Sprinkle the rub evenly over the shoulder and then pat onto the meat making sure as much of the rub as possible adheres to the pork. 
Preheat smoker to 210 degrees.
Place pork in smoker and cook for 10 to12 hours at a temperature of 210 degrees F.
Begin checking the pork for doneness after 10 hours of cooking time. Meat is done when it falls apart easily when pulled with a fork.
Once done, remove from pot and set aside to rest for at least 1 hour.
Pull meat apart with two forks and serve.
_______________
Disclosure: Amazon links are affiliate links. A commission may be earned from a referred sale to their website.