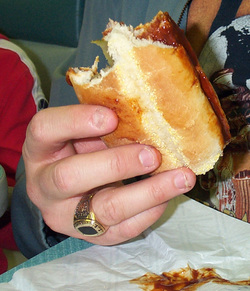 My intention was to document the many meals I was looking forward to eating on our vacation to Southern California. I was looking forward to reviewing restaurants and sharing photos of great dishes with my readers. However, it was not meant to be.
First the camera was in my husband's golf bag during our Japanese lunch at Kinya in Claremont. Then I took a series of blurry pictures at Tutti Mangia Itilian Grill, also in Claremont. (Maybe it was those two bottles of wine the four of us drank?) Then my digital camera broke at Disneyland.
Ironically, the only decent picture I took was one of the McRib sandwich I jokingly took before our flight at Denver International Airport.
So dear readers, you'll have to forgive me and blame Kodak fate.