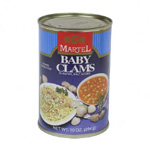 Continuing our Super Bowl party coverage…let's discuss New England clam chowder. It's yummy, creamy and really not that hard to make especially if you use canned clams.
If you have access to fresh ones, great. However there's nothing wrong with canned clams especially when you don't live anywhere near an ocean and have to go out of your way to find fresh ones (like the Asian markets in Denver or Aurora, an hour's drive from here).
In fact, if you have an Asian market near you, try buying the canned clams there. I'm always blown away on the selection and cheap prices of items like this at ethnic markets.
So here are three easy-to-make chowder recipes. I especially like the idea of making it in a crockpot since it's much easier to keep warm on the buffet table that way.
Ingredients:
4 (6 1/2 oz.) cans minced clams with juice
1/2 lb. salt pork or bacon, diced
1 cup chopped onion
6 to 8 medium potatoes, peeled and cubed
3 c. water
3 1/2 tsp. salt
1/4 tsp. pepper
4 c. half and half cream or milk
3 to 4 tbsp. cornstarch
chopped fresh parsley, for garnish
Directions:
Cut clams into bite-sized pieces if necessary.
In skillet, saute salt pork or bacon and onion until golden brown; drain.
Put into slow cooker with clams.
Add all remaining ingredients, except milk, cornstarch, and parsley.
Cover and cook on high 3 to 4 hours or until vegetables are tender.
During the last hour of cooking, combine 1 cup of milk with the cornstarch.
Add cornstarch mixture and the remaining milk and stir well; heat through.
Top each serving with a little chopped parsley and serve with crackers or crusty French bread.
Clam Chowder #2
(serves four)
Ingredients:
3 slices bacon, diced
1 cup chopped onion
3 cups diced potatoes
1 bottle (8 ounces) clam juice
1 teaspoon salt
1/4 teaspoon pepper
2 cans (approximately 7 ounces each) minced clams
3 tablespoons flour
2 cups half-and-half
1 cup milk
Directions:
Cook bacon until crisp in a Dutch oven or large, heavy saucpan.
Remove bacon to paper towels with slotted spoon; drain.
Add onion to bacon drippings; sauté until softened.
Add potatoes and clam juice, salt, and pepper.
Cover and simmer for about 15 minutes, or until potatoes are tender. Remove from heat.
Add minced clams with their liquid.
Whisk flour into milk; add to chowder with half-and-half.
Cook over medium heat, stirring constantly, until clam chowder thickens and bubbles, or about 3 minutes.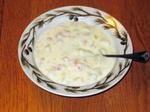 Great New England Clam Chowder
(This recipe is supposed to be a copy of Red Lobster's clam chowder soup.)
Ingredients:
2 cups russet potatoes peeled and cubes into 1/2" pieces
1/2 cup butter
2 Tbsp. diced green onions (whites only)
1/4 cup flour
(2) 6.5 oz. cans minced clams with juice
1 tsp. salt or to taste
16 oz. half and half
1/2 cup whole milk
1/3 cup clam juice
minced fresh parsley for garnish
Directions:
Place potatoes in saucepan and cover with water, cook on medium heat until tender.
Remove potatoes from heat, drain and set aside.
In 2 quart saucepan on medium low heat melt butter, add diced onions, cook until onions are slightly clear in color.
Add flour to butter and stir briskly.
Mixture will start to thicken.
Add half and half a little at a time while stirring briskly.
Mixture will be creamy and will look like thick cream.
Place salt, clams and juice, potatoes, bottled clam juice and milk with mixture.
On medium low temperature bring chowder to a slow boil.
Turn temperature down to low and let chowder simmer gently for 15 minutes, stirring frequently.
(Variations: use cream instead of half and half, use the green parts of the onions for color, and use 16 oz. of clams.)