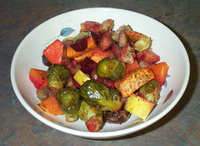 One of the easiest and most nutritious side dishes to make are roasted veggies. I make this during the fall and winter months when root vegetables are readily available and cheap.
These are great if you're trying to watch your weight. If you're on Weight Watchers, they're very low in points (one to two points from the oil and one or two for the veggies depending on what you use).
I like to use a variety of vegetables - carrots, potatoes, yams, turnips, parsnips, squash, zucchini, onions, tomatoes, mushrooms, garlic and eggplant. Pick them for taste as well as looks. If you can get a mix of colors, all the better.
Roasted beets are a favorite of my family's. They're sweet (like yams and onions), and they add color, usually turning the whole thing magenta if you mix the dish up too much.
This week was the first time I used brussel sprouts. I was pleasantly surprised how tasty they were and only picked them because they were inexpensive, small and didn't require chopping.
Tip: to make things easier and quicker, use red skinned potatoes since you don't have to peel them.
Directions:
Wash a variety of vegetables and chop into bit-sized pieces. I usually make enough to fill two Pyrex 4-Quart oblong glass baking dishes or one Pyrex 3-Quart baking dish to the top. (The vegetables will "cook down" and shrink.)
Drizzle vegetables with a good-quality olive oil.
Season to taste with kosher salt, pepper and herbs de provence.
Toss to coat.
Place in a 375 degree oven.
Toss vegetables every 20-30 minutes.
Cook until vegetables are tender, but not mushy. (Potatoes should be somewhat brown at the edges and onions should have begun to carmelize, for example.) This could be 40 minutes to an hour depending on the amount you're making.
Tip: this dish is great reaheated or eaten as a cold side salad.