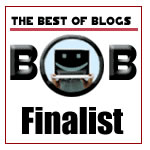 How nice is it to come home from a hectic and somewhat disappointing vacation, and find out that I'm a finalist for Best Cooking/Recipe Blog? It really cheered me up.
So, dear readers, check out my competitors' blogs…and then vote for me anyway! Voting begins today and goes until January 14, 2005.
As Pete Boyles, my favorite local radio talk show host says, "Vote early and vote often!"