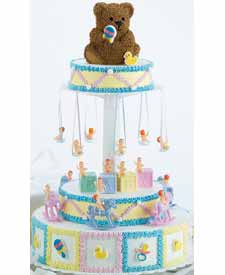 I'm making the cake for dear friend Michelle D.'s baby shower in March. Yes, even though it's over a month away, we're planning the cakes now.
I told her to go over to Wilton's website and tell me what she'd like. She jokingly asked me to make this cake. Michelle and her husband thought this was the funniest cake they'd ever seen. Don't you just love the flying babies?
I think the people at Wilton have been sniffing too much vanilla flavoring. I know cake people are slightly nuts but not this masochistic. This cake would take hours to create.

Then I saw this adorable cupcake. Now I love the idea of cupcakes. They're easy and quick to produce, very portable, and if you mess it up, you go on to the next one and eat the evidence.
So Michelle and I decided to make up a bunch of these without the pacifier and the top curl. I can have fun piping different expressions on the babies's faces, too.
And per Sean's request for chocolate cake, I'm using Duncan Hines® Moist Deluxe® Devil's Food Cake Mix. No I don't make cakes from scratch, but use mixes. Much easier when you have to deal with Colorado's high altitude and its effect on your baking.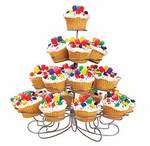 I bought a Wilton Cupcakes 'N More™ Dessert Stand recently at Michaels' (with a 40% off coupon, of course). I think this is a great way to display cupcakes and makes a pretty party table decoration. I plan to use this at Michelle's shower and at my Super Bowl party.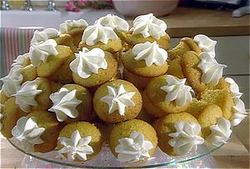 And for the little kids in attendence, I plan to make a mini-cupcake bouquet.
Mini-cupcakes are perfect for kids because all they want to do is lick off the icing and aren't much interested in the cake. And there isn't so much waste. Also, parents have a little more control to how much cake their child eats.
I got this idea from Sanda Lee's Semi-Homemade show and her book, Semi-Homemade Desserts. However, I make my own mini-cupcakes and use a lot more icing.
For the icing, my favorite thing to do is using a brush, I stripe the inside of the piping bag with Wilton's icing coloring. Then I gently fill the bag with white icing. When you squeeze the icing out it's two-toned – a very slick and professional look.
I use a largish star tip and lots of icing when decorating mini-cupcakes. Afterall, cake's great but icing is marvelous!