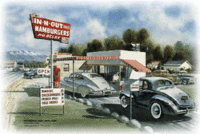 I'll be away for the holidays and hope to have lots of great stories of sushi in San Diego, character breakfast buffets at Disneyland, Christmas dinners at my mom's house, late night rolled tacos with guacamole noshes, and the occasional stop at In-N-Out Burgers, too.
Please visit the other cooking blogs on my Food Blogs list if you need a foodie break or some fresh cooking ideas. There are some wonderful food sites out there that need our support and readership.
I hope you have a wonderful holiday season. Celebrate and eat well. (I'm going to make those calories count! Then it's back to Weight Watchers next year for me, I'm afraid.)
Anne-Marie
This Mama Cooks!