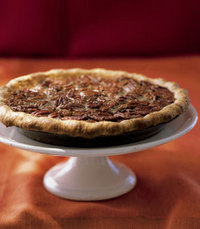 After searching all the cooking magazines' Thanksgiving issues, I realize that pecan pie is almost as traditional as pumkin pie.
Now I love a good pecan pie, but I like pumpkin pie, too. So maybe a compromise between pumpkin and pecan pie is needed.
Thus our second contender for the pumpkin pie contest, Pecan Pumpkin Pie, which comes to us via the Epicurious website. This recipe was originally published in the November 1985 issue of Gourmet .
Pecan Pumpkin Pie
(makes 8 to 10 servings)
Active time: 45 min Start to finish: 4 1/2 hr (includes making dough and cooling)
For pie shell
Your favorite pastry dough recipe or this one from Epicurious.com.
For pumpkin filling
3/4 cup canned solid-pack pumpkin
2 tablespoons packed light brown sugar
1 large egg, lightly beaten
2 tablespoons sour cream
1/8 teaspoon cinnamon
1/8 teaspoon freshly grated nutmeg
For pecan layer
3/4 cup light corn syrup
1/2 cup packed light brown sugar
3 large eggs, lightly beaten
3 tablespoons unsalted butter, melted and cooled
2 teaspoons vanilla
1/4 teaspoon finely grated fresh lemon zest
11/2 teaspoons fresh lemon juice
1/4 teaspoon salt
1 1/3 cups pecans (5 1/2 oz), chopped if desired
Special equipment: pie weights or raw rice
Make pie shell:
Roll out dough on a lightly floured surface with a lightly floured rolling pin into a 13-inch round (1/8 inch thick), then fit into a 9-inch glass or metal pie plate. Trim edge, leaving a 1/2-inch overhang, then fold overhang under and crimp edge decoratively. Prick bottom and side of shell all over with a fork, then chill shell 30 minutes.
While shell chills, put oven rack in middle position and preheat oven to 375°F.
Line shell with foil and fill with pie weights, then bake until pastry is set and pale golden on rim, about 20 minutes. Carefully remove foil and weights and bake shell until pale golden all over, 6 to 10 minutes more. Cool on a rack.
Make pumpkin filling:
Whisk together pumpkin, brown sugar, egg, sour cream, cinnamon, nutmeg, and a pinch of salt in a bowl until smooth.
Make pecan layer:
Stir together corn syrup, brown sugar, eggs, butter, vanilla, zest, lemon juice, and salt in a bowl, then stir in pecans.
Assemble and bake pie:
Spread pumpkin mixture evenly in shell, then carefully spoon pecan mixture over it. Bake pie until crust is golden and filling is puffed, about 35 minutes. (Center will still be slightly wobbly; filling will set as it cools.) Cool completely on rack. Serve at room temperature.
Cooks' note:
Pie can be baked 4 hours ahead and kept, uncovered, at cool room temperature. Pie can also be baked 1 day ahead and chilled, loosely covered with plastic wrap. Reheat in a preheated 350°F oven until crust is crisp, about 15 minutes.
Epicurious.com © CondéNet, Inc. All rights reserved.