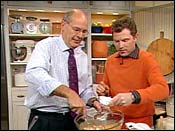 It looks like close friend Michelle D. is going to be a regular contributor. She made the following recipe this morning for her husband, Sean and herself. It's for the pumpkin french toast dish that Bobby Flay prepared on The Early Show on October 21, 2004.
Michelle writes:
"I can't even begin to tell you how good this is. Safeway didn't have figs so I left those out. Next time, I would also use less syrup for the toast and top with some whipped cream and fresh nutmeg. Mmmmmmm….oh and the butter…mmmmm."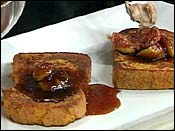 Pumpkin French Toast with Fig-Maple Syrup and Alspice Butter
Prepared by Bobby Flay on CBS's The Early Show – October 21, 2004
Serves: 4
Allspice Butter
1 stick unsalted butter, at room temperature
1 tablespoon ground allspice
2 tablespoon pure maple syrup
1/4 teaspoon salt
Place ingredients in a food processor and process until smooth. Scrape into a bowl, cover and refrigerate for 30 minutes.
Fig Maple Syrup
6 fresh figs, quartered
1 1/4 cups pure maple syrup
Place figs and syrup in a small saucepan and simmer over low heat until the figs are soft, about 10 minutes.
Pumpkin French Toast
1/ 2 cup canned solid packed pumpkin
6 large eggs
2 egg yolks
1/2 cup granulated sugar
1 teaspoon ground cinnamon
1/2 teaspoon of cloves
1/4 freshly grated nutmeg
1 teaspoon pure vanilla extract
2 cups whole milk
1 cup heavy cream
1/4 teaspoon salt
8 1-inch thick slices day-old brioche
4 tablespoons unsalted butter, cut into tablespoons
1/4 cup vegetable oil
1. Whisk together the pumpkin, eggs, sugar, cinnamon, vanilla, milk, cream and salt in a large bowl. Place the bread in baking dish and pour the pumpkin mixture over and turn the bread to coat evenly. Let sit for 5 minutes.
2. Heat 2 tablespoons of the butter and 2 tablespoons of the oil in a large, nonstick sauté pan over medium-high heat. Place 4 slices of the bread in the pan and cook until golden brown on 1 side, about 2-3 minutes. Turn the slices over and cook until golden brown, 2-3 minutes longer. Wipe the pan out with paper towels and repeat with the remaining butter, oil and bread. Serve 2 slices per serving with a few tablespoons of the butter and some of the fig-maple syrup.
©MMIV, CBS Broadcasting Inc. All Rights Reserved
(Photos: CBS/The Early Show)